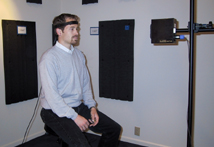 Simulation of 3D audio
employs filters containing characteristics of the head, torso, and pinna. The accuracy of these
Head-Related Transfer Functions
(HRTF) filters directly affects the quality of the synthesized sound. Research shows that using listener-specific HRTFs significantly improves localization precision.
Until recently, measuring individualized HRTFs was a costly and lengthy process that could only be performed in highly controlled acoustic environments, often requiring expensive custom software and hardware components.
HeadZaptm
is a commercially available acoustic measurement system designed to measure HRTFs in a less controlled (and less costly) environment. It is an essential tool for hearing research, virtual auditory environment modeling, and 3D sound simulation. Capturing a complete map of acoustic measurements for a specific individual is fast and easy and can be performed in untreated rooms.